Areas of Activity enable participants to classify and tag their business and also, they facilitate the search of suitable meetings partners through sorting participants on the website.
Areas of Activity are generated by the topic chosen by the organizer the moment when they create the event, however, they can be edited at a later stage.
The areas of activity are automatically defined by the b2match system when the organizer creates the event and chooses the event topic. For example, if the organizer chooses Agriculture as topic, the following areas will be automatically filled in: Agricultural Mechanization and Machinery, Agricultural, Greenhouse Technologies, Agricultural Medicines, Analysis equipment Laboratory equipment, Animal husbandry, Animal Product Machinery, Ecological Agriculture, Drone, etc.
If the organizer chooses Others as event topic, no areas of activity are generated and the organizer has to add them from scratch.
When the areas are defined, choosing at least one area of activity during registration is a mandatory step for participants.
The areas of activity help the participants find potential meeting partners by serving as a filter in the participants list on the website.

Editing Areas of Activity
Organizers are able to edit the areas of activity. In order to do so, click on Configuration in the navigation panel and go to Participant and Areas of Activity. You have the options to edit and delete the automatically generated areas.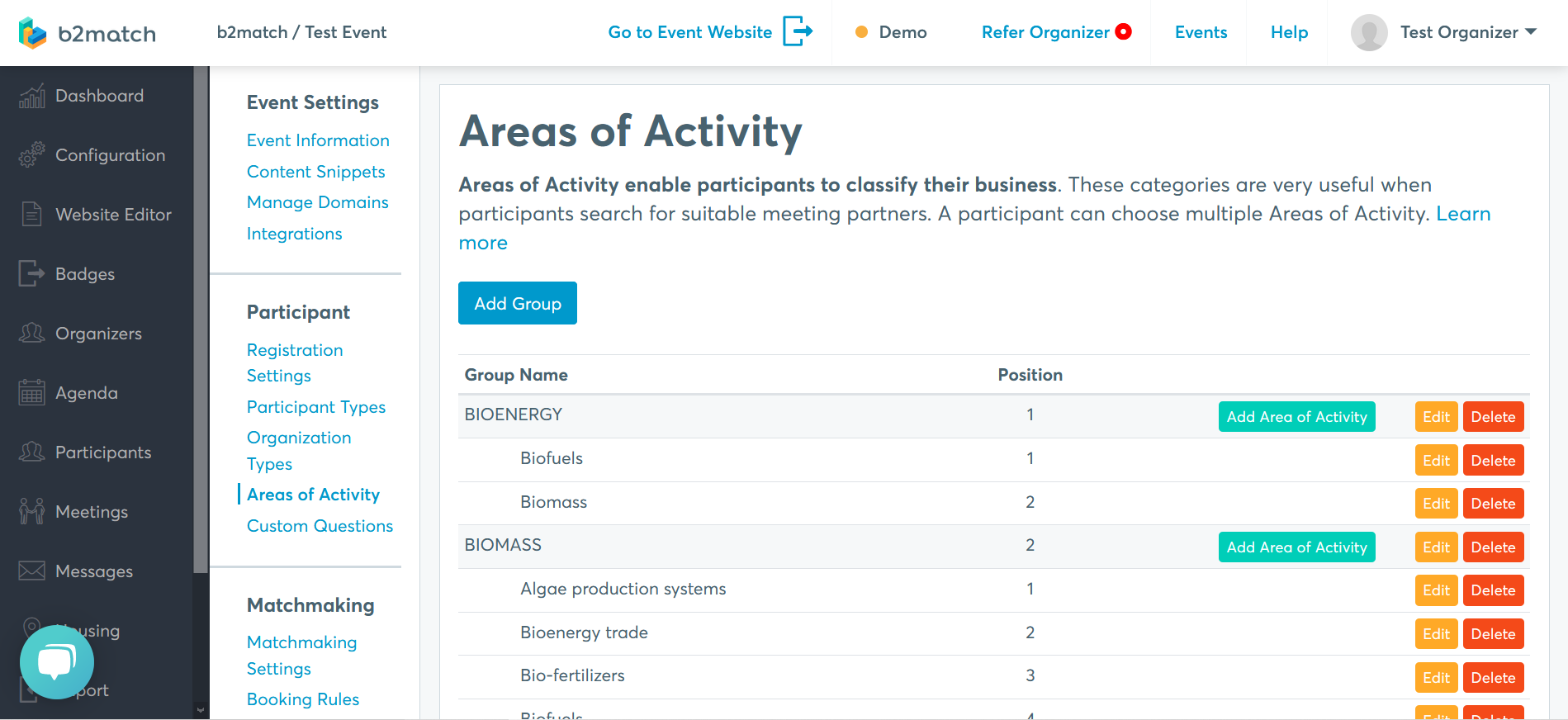 If you choose to delete all the areas and start over, please follow the instructions below.
Click on Add Group to create a group which will contain your areas of activity.
Fill in the group name in Create new group - Name
Add the areas of activities/business fields in Areas of Activities fields. You can edit the groups and areas of activity at any given time.
Form name - you have the ability to define the form name, used only in registration and participant dashboard (Edit my profile)
Exclusive selection - you have the ability to select just one business field in a group of areas of activities
Participant type selection - you can define business fields which are visible to a particular participant type.