b2match allows the event organizer to customize the invoice to a certain extent.
Customizable items
Contact details of the invoice issuer (details of the organization who's issuing the invoice) - customizable in Configuration - Payments - Settings - Invoice Header
Invoice issuer's organization logo - typically the event owner's logo (Edit my account for the event owner - Organization - Logo) or the logo uploaded in Promotion settings > Website footer promotion > Logo and link.
Invoice footer - the event organizer can add any event info relevant to be shown in the invoice. In case you have activated payment by bank transfer, you need to add the bank account details in the here - bank name, IBAN and a relevant reference that the participant needs to enter when making the payment (for example participant's name). You can edit the invoice footer in Configuration - Payments - Settings - Invoice Footer
Ticket description - it can be customized in Configuration - Payments - Tickets - Edit the ticket for which you want to update the description.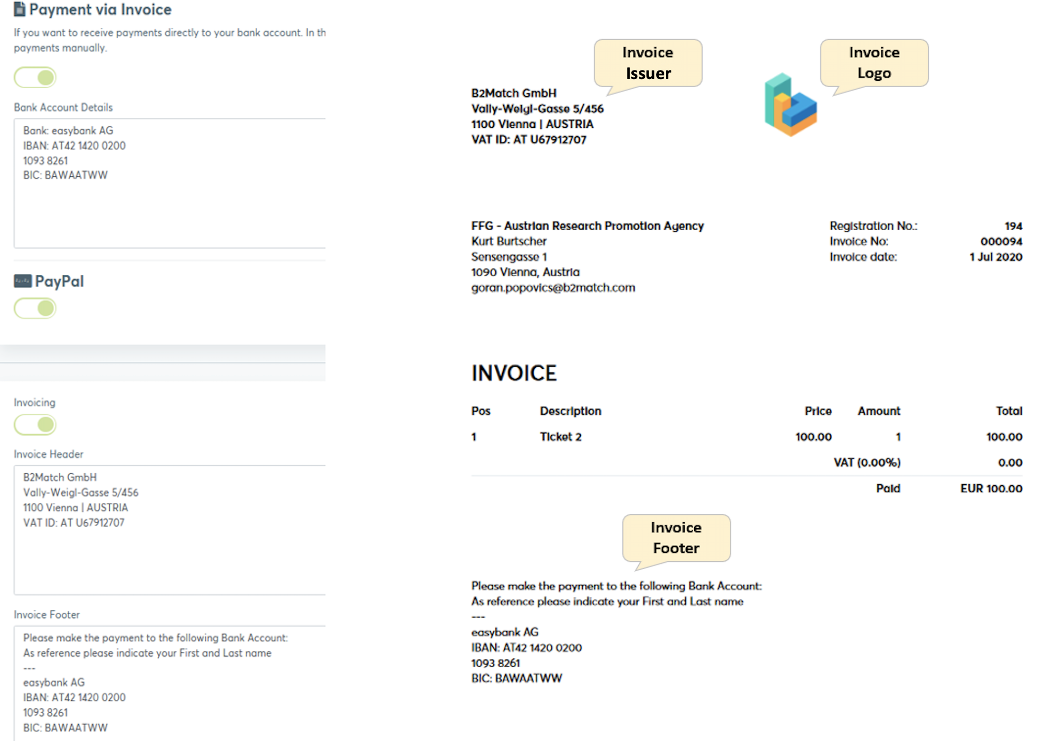 Non-customizable items on the invoice
Registration no - this is the participant's number, you can find it in Participants section in your organizer's tool
Invoice number - the number of the invoice, it starts from 0001 and continues in ascending order
Invoice date - the confirmation date of when the payment has been made (Stripe/Paypal) or confirmed (Payment via invoice).