The event agenda is the agenda that the organizer added in the organizers tool and which the system displays on the website page on the Agenda tab.
It is accessible by anyone with the event link, provided that the organizer set the event as public.
What does the event agenda display?
The agenda lists the sessions added by the organizer, with the following information, set in the organizers tool:
Date, time and title - as set by the organizer in each session, in the organizers tool;
Location - as set by the organizer in Agenda - Locations;
Description - as added by the organizer in Agenda - Session Info - Full Description; to see the description, click on the session and the description panel will be displayed on the right side of the screen;
Speakers - as set by the organizer in the participant's profile - Participants - choose the participant and click on their name - Profile - Speaker Settings; the speaker's name, photo and their title/job description will be displayed in the info panel of the session you chose;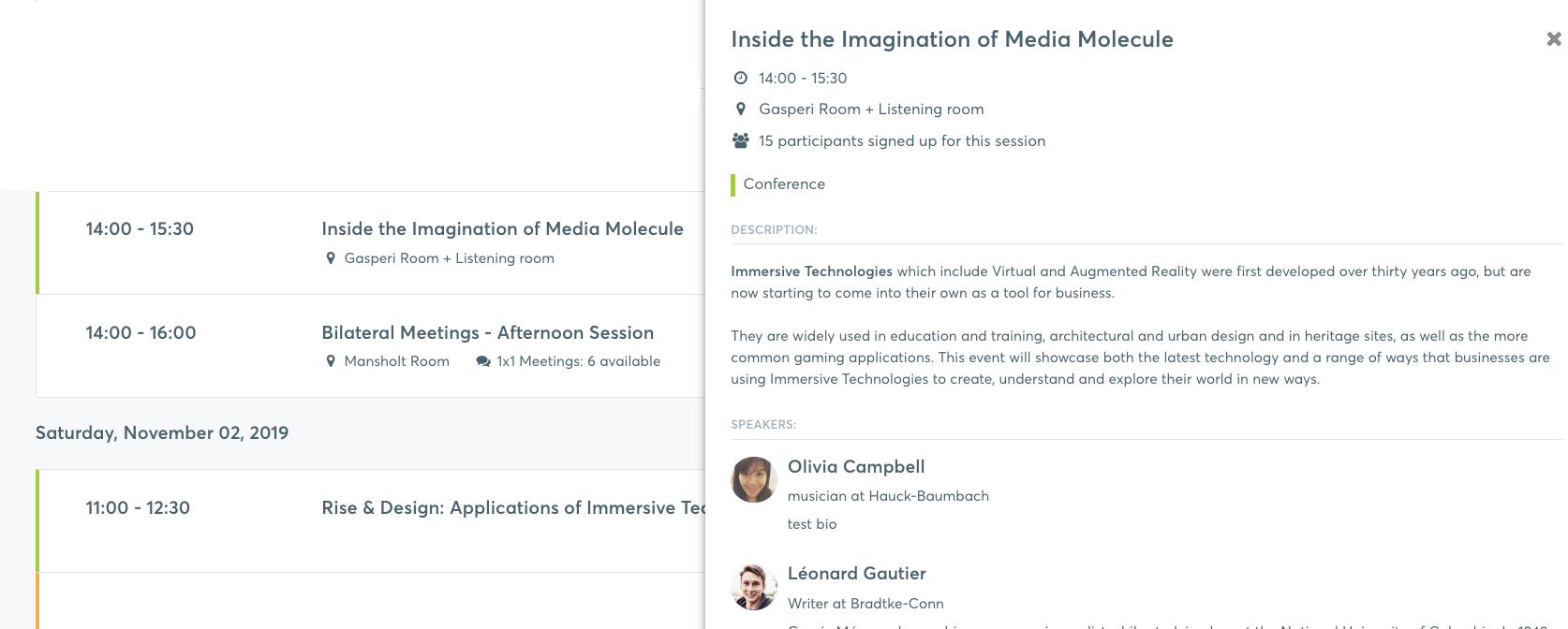 Tracks - as set by the organizer in Agenda - Tracks.

Tracks are used to group sessions by topic or theme and can be used to make some sessions mandatory to choose during registration. Examples of popular tracks: Workshop, Conference, Pitch, Afterparty.

the sessions belonging to the same track are marked with the same specific track color.

Agenda filters
The sessions can be filtered by the participants on the event agenda by the following criteria: date, location and tracks.

Matchmaking sessions
The matchmaking sessions display the following information on the preview: the time of the session, the location and the number of available time-slots.

Once you click on it, the information panel will additionally display the number of the participants who signed up for this session and a representation of the time slots.