In order for the organizers to be able to use the check-in feature, they need to login to the b2match app by using their admin login, which are their organizer credentials - the email and password they use when logging in to the b2match organizer's tool.
The Organizer's View
once the organizer is logged in, the list of the events which he organizes will be displayed
after taping on the event for which the check-in is needed, the QR Scanner button will appear at the top of the participants' tab
two tabs will be displayed at the top of the page, Absent and Checked-in

You can check in the participant by using the Checkin button or the QR Scanner.
in order to use the scanner, click on QR scanner button
scan the participant's QR code
once the QR code is scanned, the app will immediately display the participant's name and the name of the organization at the top of your screen
you can now find the participant in the Checked-in list

Adding QR Codes in Messages
When composing your outbox message, add the QR code variable by clicking on Variable and QR CODE.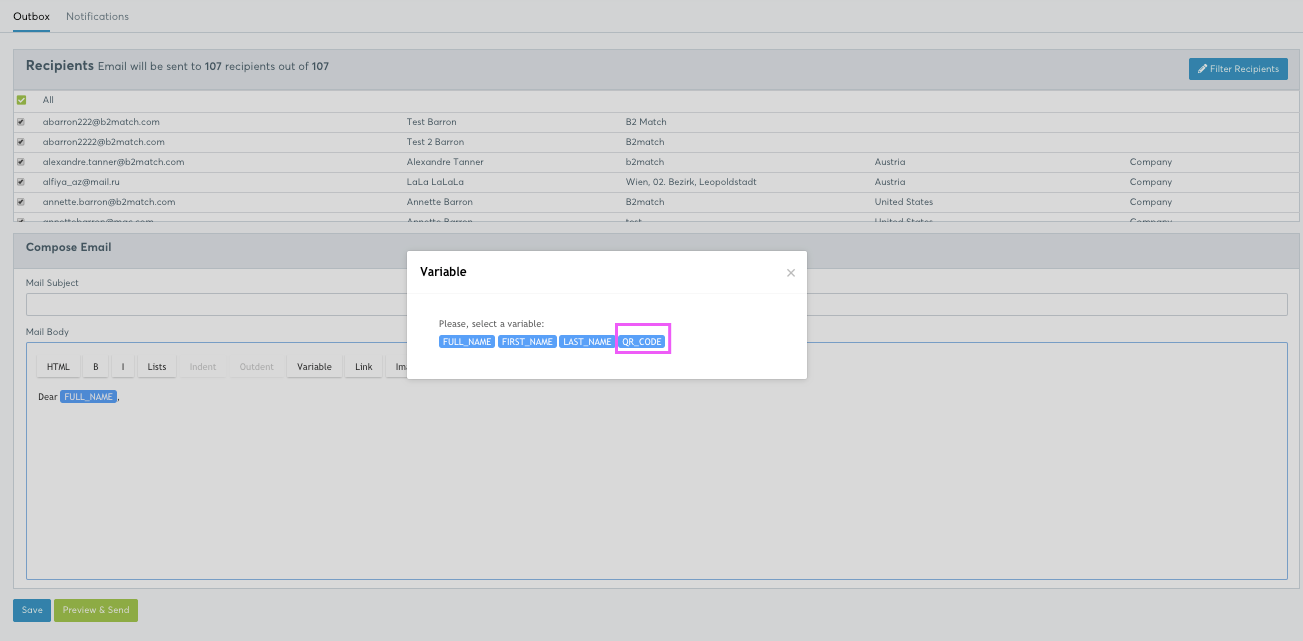 Adding QR Codes in Badges
When designing your badge in the badge editor, click on QR Code.

The Participant's View
The QR codes can be accessed by the participants as follows:
in the b2match app, under the Event tab, in Ticket. When clicking on Ticket, the QR code will be displayed

for the participants who don't use the b2match app, the organizers will create badges containing the codes they will send the QR codes via email.