Feedback Type
b2match offers the possibility to gather participants' feedback for your event as follows:
Feedback questions - this implies using a questionnaire to ask questions on the general event organization - you can use the predefined set of questions put together by b2match, which you can adapt to your specific needs, or add your own customized questions
Meetings Feedback - this implies rating the meetings - the participants are encouraged to rate the quality of each meeting they had.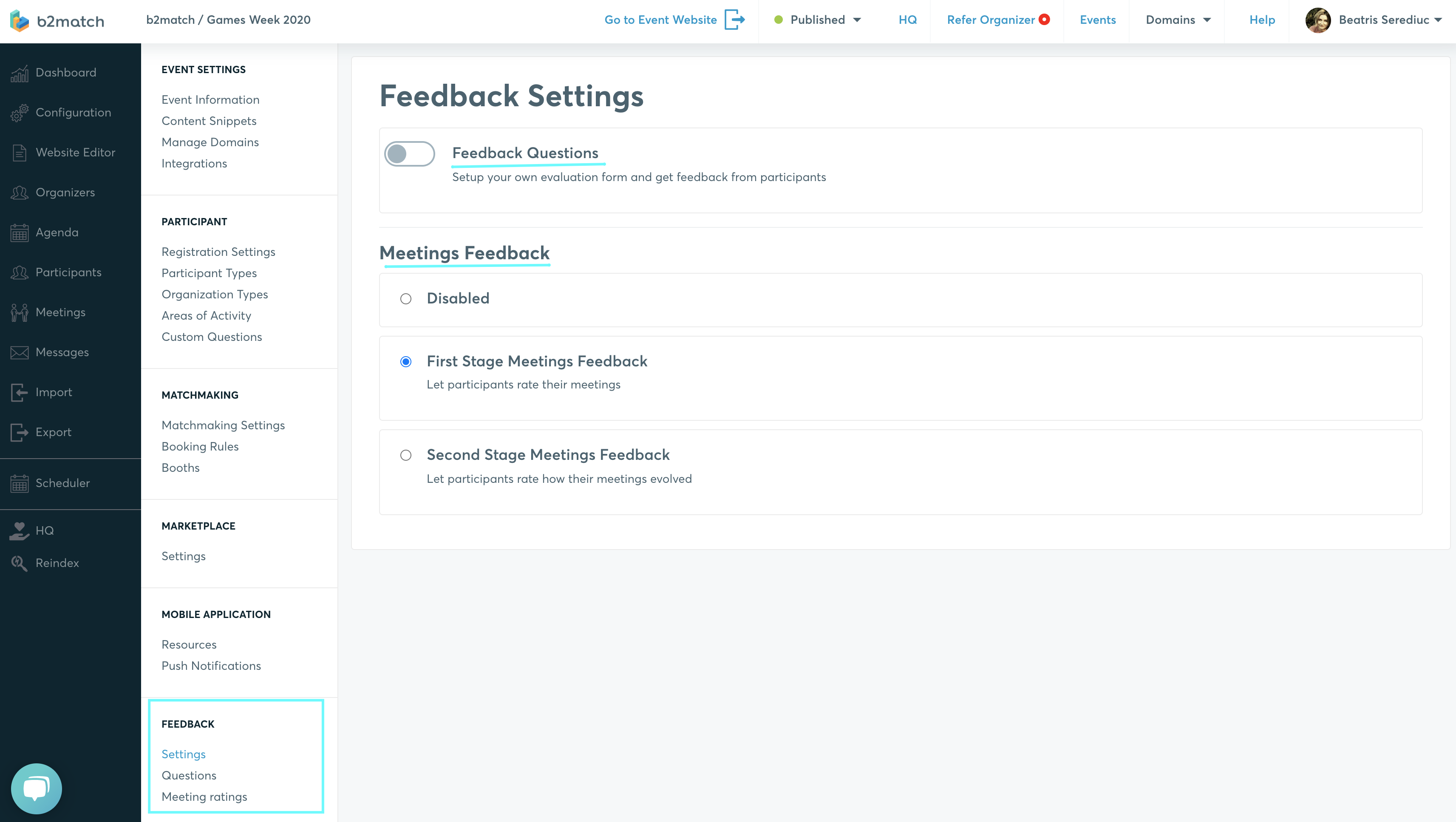 The meetings' feedback is enabled by default for every event, meaning that the participants can offer feedback for each meeting that has already happened, via web platform or app. In order to disable it, go to Configuration - Feedback - Settings - Disabled.
If you choose to go with the system's default, the participants will be able to evaluate their meetings (since the First Stage Meetings Feedback is enabled by default) but they will not see any other questions. In order for them to answer feedback questions, you need to enable Feedback Questions. You can keep the default questions or add your own.
Adding Questions
In order to add or edit your own questions, follow the steps below:
Go to Configuration - Feedback - Settings
Choose the type of question you want to define (single choice question, multiple choice question, text question or question group)
Insert your question and the options, if applicable
Choose whether the question is mandatory or not
Choose the visibility of the question (public or for registered participants only)
Click on Save Question.
In order to edit one one the questions, click on Edit, apply the changes and click Save.
Letting Participants Know About Feedback
The Meetings Feedback is available immediately after the meeting took place and can be found in the participant's dashboard in Feedback or in the app. They can choose between the following options: not taken place, insufficient interest / no further contact, very informative but no cooperation planned, cooperation possible, cooperation already agreed and add an additional comment.
Whenever you decide to enable the Feedback Questions, the participants need to be notified.
Let the participants know that their feedback is required by sending an Outbox message in which you encourage them to login to their b2match accounts in order to offer their opinion on the meetings and event.