A template to help get you started. Read through carefully to add or switch out text relevant to your event.
Note: To create this template please go to the b2match platform and login to:
Messages - Email to imports.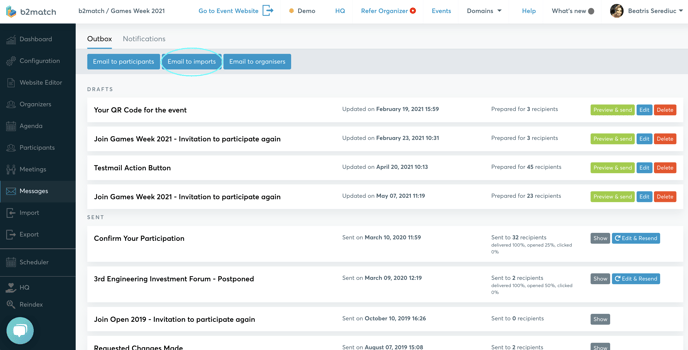 ---
Email Subject: Event Name - Invitation to participate again
Dear [add the FULL_NAME placeholder here see the Variable button],
In the past you attended the Event Name.
Event Image (size suggestion 1000x120px)
Due to its success, we are pleased to announce that it will take place again. As a valued participant, we wanted to inform you first so you can sign up for the inspiring and interesting program we have carefully crafted for you.
Use bullet points here to highlight exciting agenda items
What will get the participant's attention?
Three is a magical number, enough, but not too much
The event will take place:
Date:
Location or Virtual or Hybrid
Event website:
To simplify the registration, your contact data has been imported from last year.


Confirm Your Participation for This Year's Event
Insert the Invitation action link here with the text "Confirm or Cancel Your Participation"
We look forward to seeing you again.
Kind regards,
Event Organizer(s) Names
---
Screenshot below of what this email template looks like in the b2match messaging tool.