How to set up your live stage with b2match
b2match enables you to use professional live streaming software with RTMP. In this article we will show you how to connect a live streaming software with your b2match event.
Basically, you need a software which supports RTMP, an intermediate mean to process it and broadcast it (in this case, b2match), and the platform for watching it (the b2match website).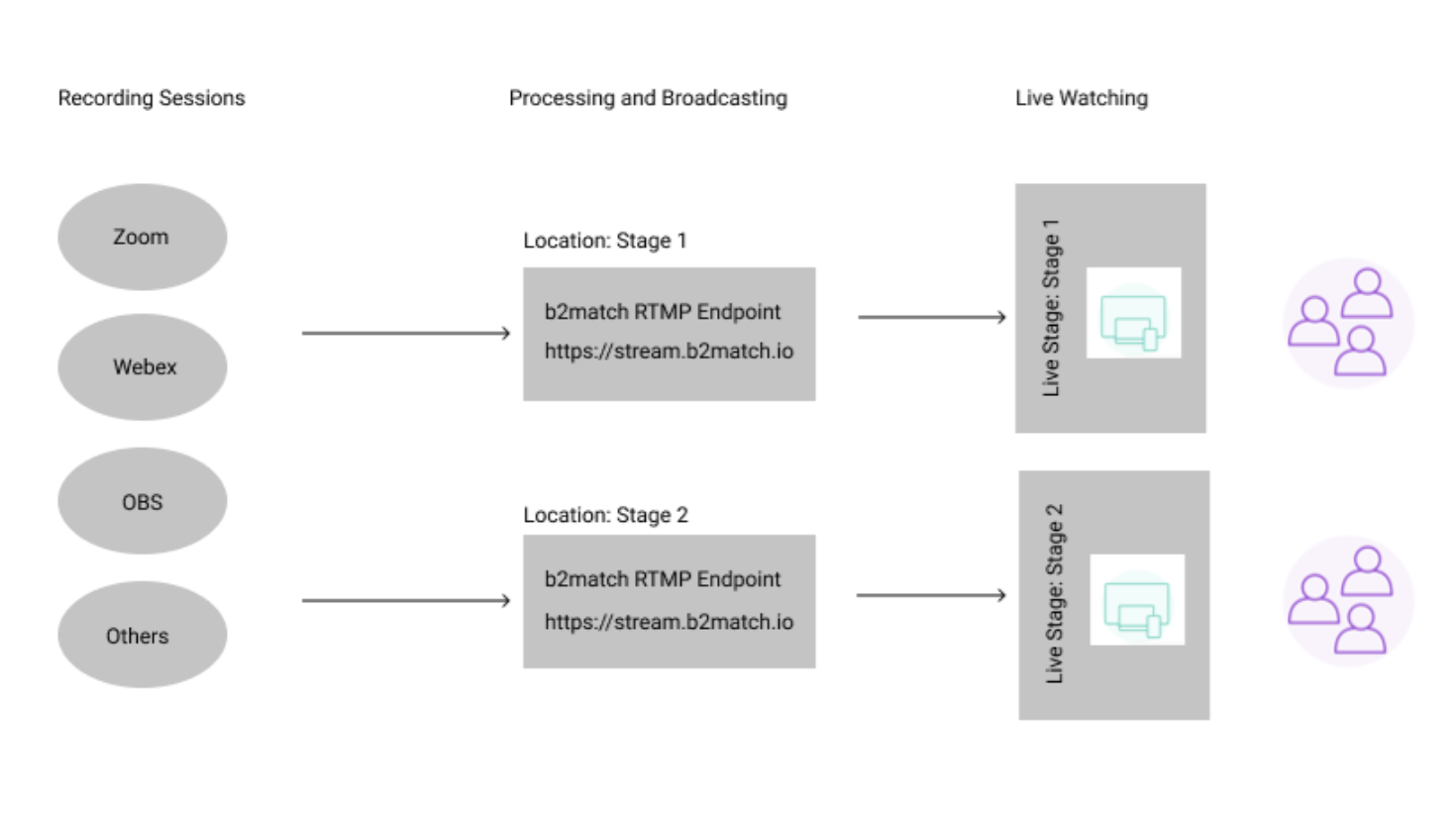 1. Choose the software encoder you will use
To start, you need a software encoder which supports RTMP. Below you can find some popular live streaming softwares which you can use.
Cross-platforms with streaming and recording:
Video conferencing solutions with streaming support:
After you installed one of the softwares above, go to the next step.

2. Create a virtual live stage in the b2match organizer tool
In Agenda - Locations - toggle This location is a live stage, then choose Live stream.
Click on Create stream. The RTMP URL and the Stream Key will generate.
(Note that by choosing Embed code, you need to organize the stream with a streaming tool (Vimeo, YouTube) and enter the embed code in the field. Click here and follow the steps if you choose this option instead.)
Save the location. Now you can go directly to the live stage via the Join online button.
3. Configure your streaming software and test the connection
Now you need to configure the tool you chose in step 1 with the provided parameters. Add the RTMP URL and the Stream Key, which we generate for you.
RTMP URL - this is the URL of the RTMP server
Stream Key - the Stream Key is essentially used to authenticate your live stream with the RTMP server. This is your secret key to live streaming. No additional authentication is needed.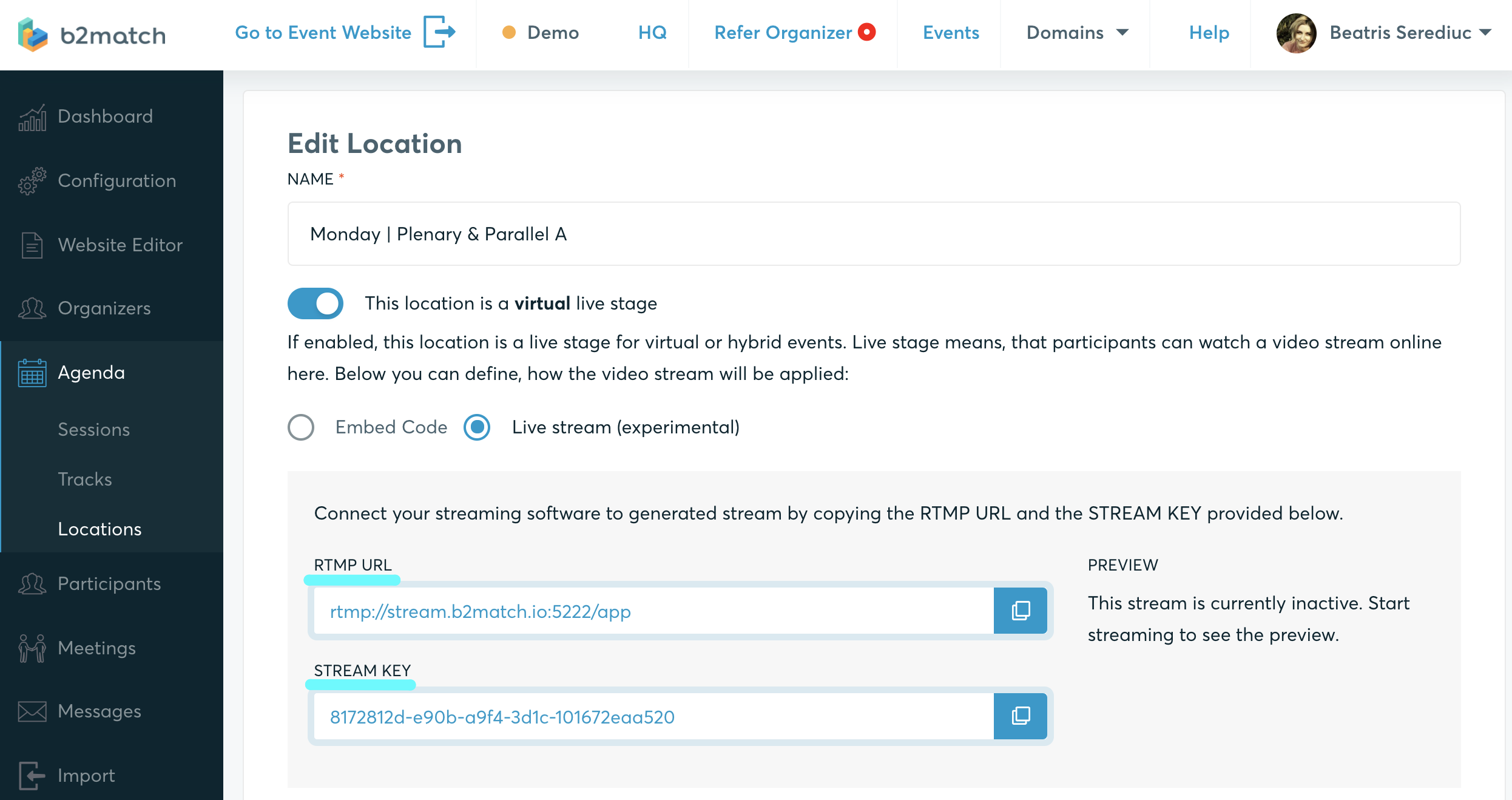 It's recommended to test the streaming. The Join online button in Locations will allow you to access it.

5. Assign the location to the b2match agenda session
Go to Agenda, edit the session and assign it the live stage location.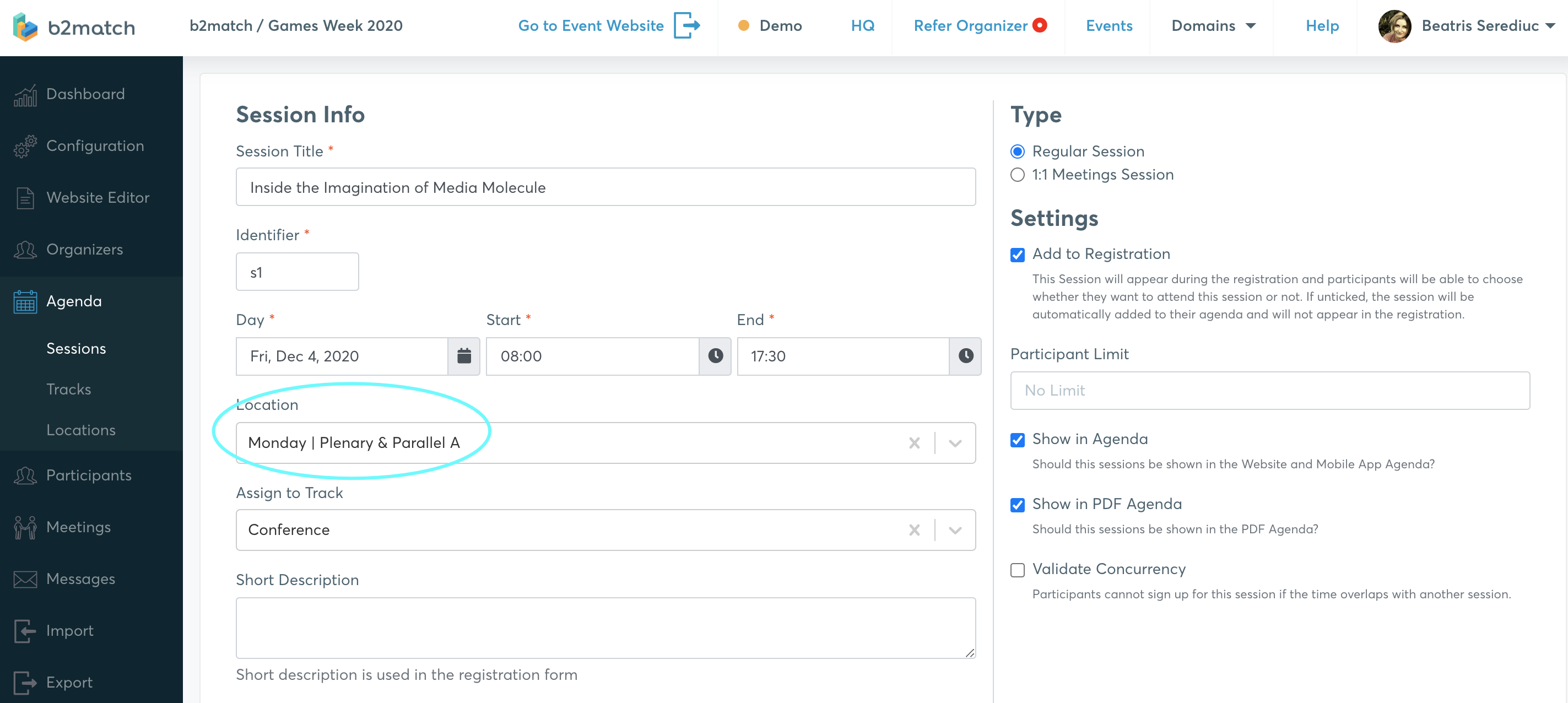 The participants will access the session through their agendas.
The Join online session button will only be active on the event day and time.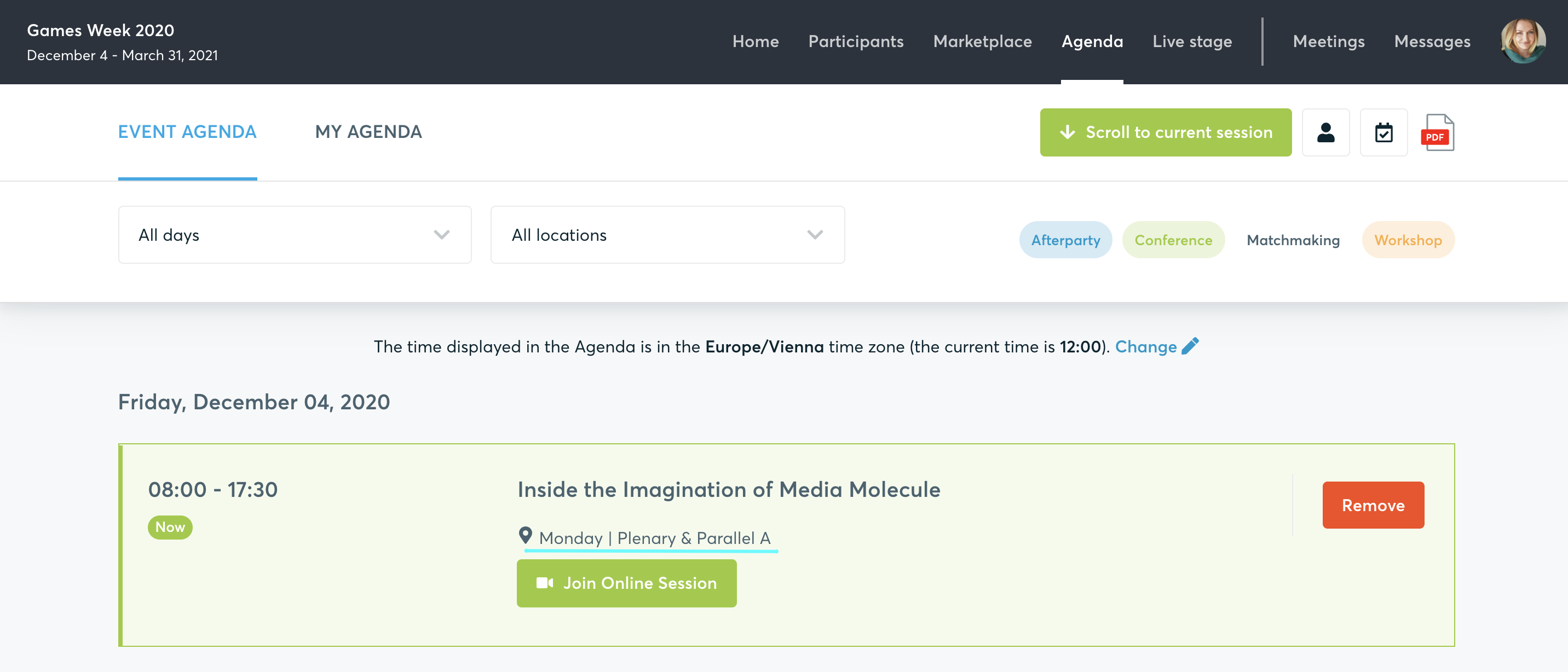 When clicking on it, the participants will be redirected to the Live stage page, where the broadcast can be viewed.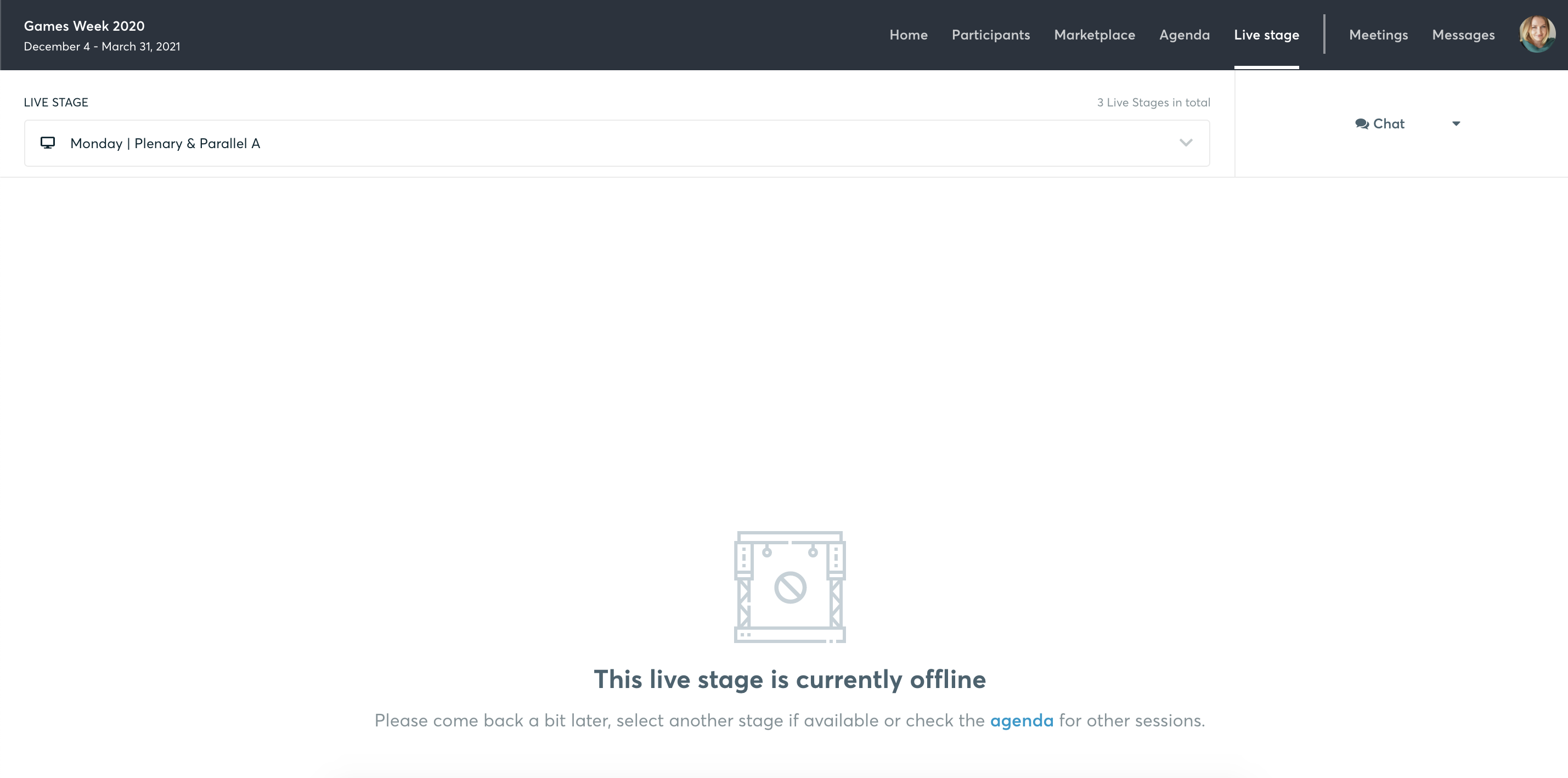 The broadcast needs to be started from the software encoder or the video conferencing tool you configured.
Recommended encoder settings
Common
Video CODEC - H.264 (Main Profile)

Audio CODEC - AAC
Great - 1080p 30fps
Bitrate - 5000 kbps

Keyframe Interval - 2 seconds
Good - 720p 30fps
Bitrate - 3500 kbps

Keyframe Interval - 2 seconds
Works - 480p 30fps
Bitrate - 1000 kbps

Keyframe Interval - 5 seconds
You should also consider your available upload bandwidth when choosing an encoder bitrate. For a more reliable connection, we recommend using no more than ~50% of the available upload bandwidth for your live stream ingest.