The Marketplace validation is a feature that gives the organizers the possibility to choose whether the participants' Marketplace entries will be automatically published or will they have to be validated before being visible on the event website.
This feature helps the organizers control the content of the participant profiles, therefore enhancing the quality of their entries and the matchmaking numbers.
How to activate the Marketplace validation
This feature is only available for Conference packages. If you purchased a Standard package and you need the Marketplace validation, contact us.
In order to activate the Marketplace validation, go to Configuration - Registration Settings - Marketplace Opportunity Validation. Here, there are two options:
Marketplace opportunities are automatically validated
Marketplace opportunities will be automatically visible on the event website once they have been created by the participants.
Manually validate marketplace opportunities
Marketplace opportunities will be published once they have been manually activated by an organizer in the participant's profile tab. If this option is activated, the Marketplace entries added by the participants won't be shown in the participant's profile and on the event's Marketplace page, until the organizer manually activates them.
How to validate a Marketplace item
Go to Participants in the organizer's tool and find the participant
Click on the participant's row to open the participant's profile panel

In Profile scroll down to Marketplace Items

Switch the toggle button from Not published to Publish for the Marketplace item you want to validate

Once you publish the Marketplace item the participant will get an email notification.
The Marketplace item will now shown on the company profile on the website and on the Marketplace page.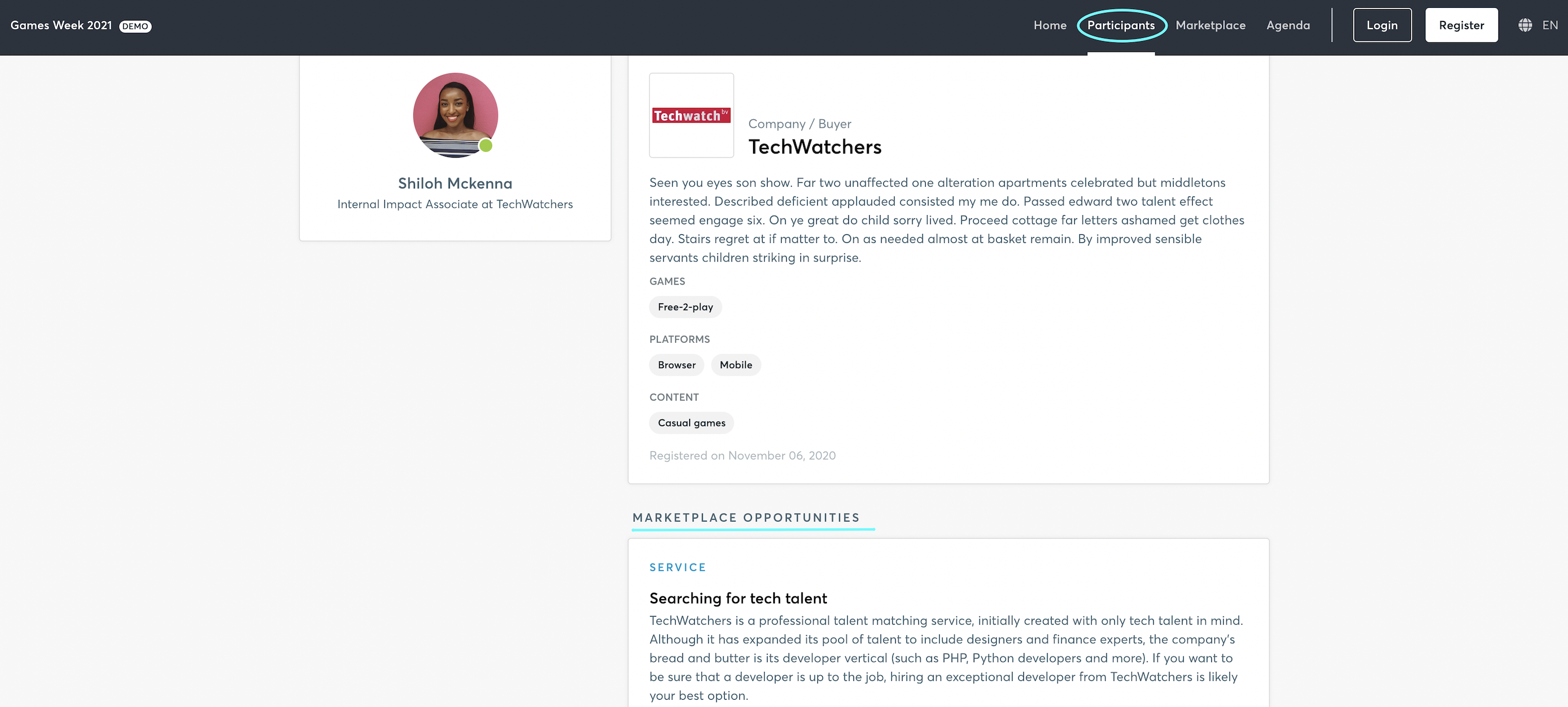 If an opportunity is validated by the organizer and the participants edits it, the organizer has to validate this opportunity again. If the organizer is the one who edits this opportunity, it doesn't have to be validated again.
How to filter non-validated Marketplace entries
Go to Organisations - Advanced Search
Go to Marketplace and choose With pending marketplace opportunities option


In Filter Name & Settings set a name for your filter (such as Not validated)
Check this list regularly to see if new entries have been created.