The Meeting Ratings are enabled by default for every event, which means that the participants can offer their feedback for each meeting they had. They can do it via the event website or the mobile app.
The ratings are enabled by default for all events. If you would like to disable them, you can do so in Configuration > Meeting Feedback.
The ratings are available immediately after the meeting takes place. Participants can rate their meetings by using 1 to 5 stars, or indicate that a meeting did not take place. Each star represents a label:
Not at all interesting
Slightly interesting
Moderately interesting
Very interesting
Extremely interesting
Participants can also leave an additional comment if they wish.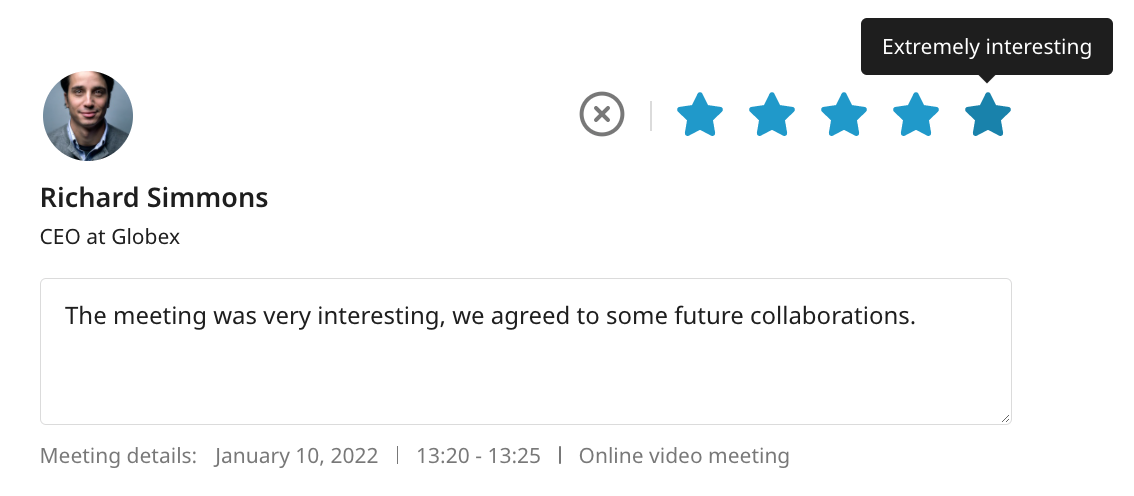 Participants can rate their meetings in several different places:
1. Meetings page

Participants can rate all of their past meetings on the Meetings page. They can rate them all at once by clicking "Rate your meetings".

This will provide a list of all of their meetings:
Tip: after the event ends, inform your participants about their unrated meetings. Send them an email and explain how they can easily rate all of their meetings at once.

Participants can also rate individual meetings on the Meetings page:
Clicking on this section will open the individual meeting ratings screen:
After the meeting is rated, the rating and the additional comment will be displayed on the Meetings page: