When payment approval is enabled, participants are not allowed to pay until the organizer clicks the button Enable payment in the participant's profile.
The participant will still be able to pick tickets during the registration. However, they will be able to pay at a later stage, after the organizer's approval.
In order to activate the payment approval, you need to contact our b2match Support.
When to use payment approval
When free or significantly cheaper tickets are assigned to specific participation types

When certain tickets need to be bought by specific participation types only

When promotions codes need to be assigned after the participants' registration
Approving payment for participants
Go to Payments or Participants and click on the participant for whom you want to approve the payment. The profile panel will open on the right
Go to the Payments tab

Click on the button Enable Payment if you want to allow participant to pay for this ticket
After enabling payment, the payment status changed to Pending.

As soon as you enable payment, participants will see the message Please complete your payment in their profile.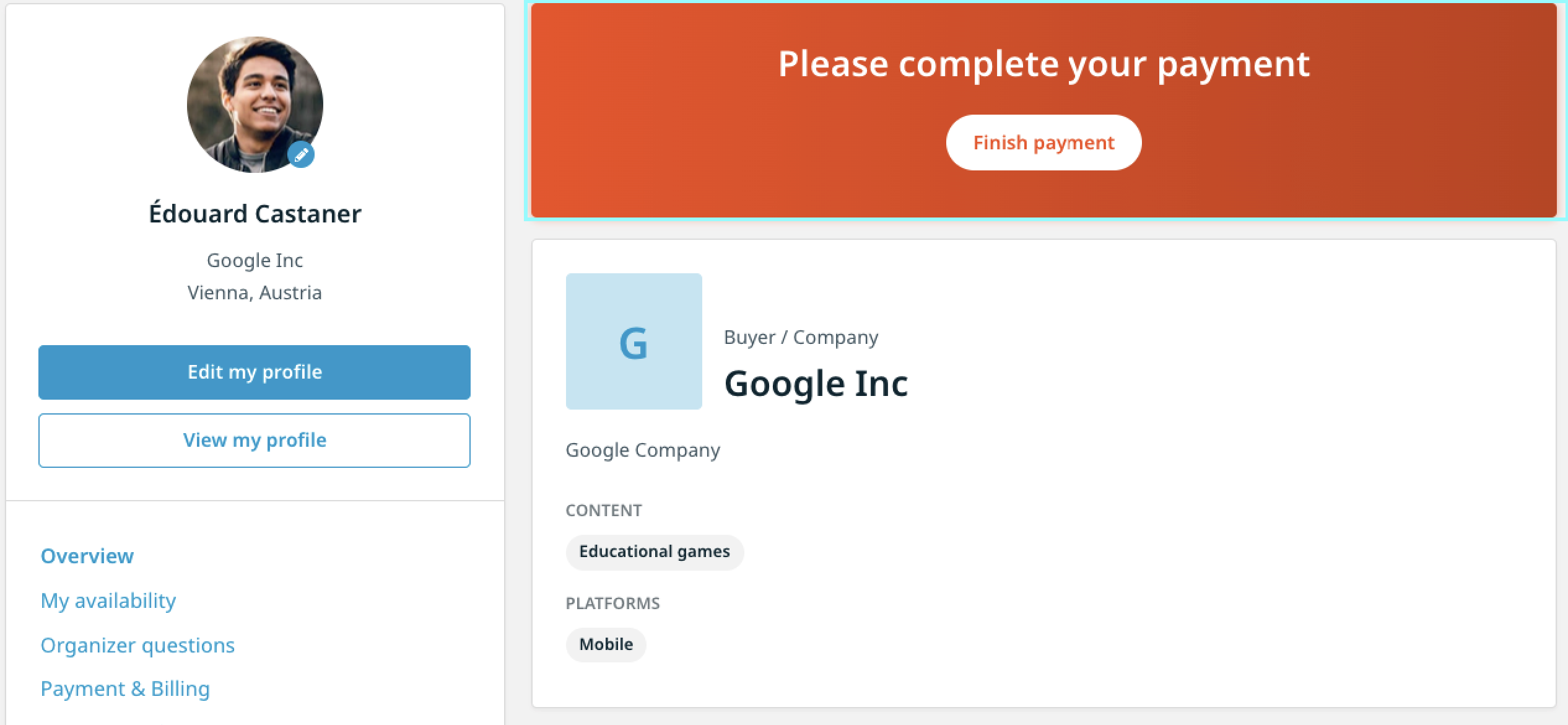 The participant validation process remains the same.
Participants will be notified that their payment is enabled via the Payment enabled automated notification which you can find in Messages - Notifications.
Participation types should not contain details about ticket prices.
For the participant, the participation type is the concept which differentiates them from other participants and enhances the matchmaking (buyer vs. seller, startup vs. investor). For the organizer, participation types are used to group participants in order to distinguish them in the system and to apply booking rules. All in all, the participation type is a concept helping differentiate participants and should be separated from the tickets and tickets price.
Encourage promotion codes usage rather than free tickets.
This will avoid the participants' tendency to choose free or low-cost tickets and will give the organizer the ability to better control the payment process.
Use invitation links and hidden participation types to provide special prices or free tickets to certain participants.
b2match offers you a variety of options that you can use to manage different participant types. You can easily hide participation types by setting it in the event's configuration.