b2match supports payment with the following means:
Once the payment has been activated in the b2match system, the owner of the website needs to follow the steps below:
1. Connect your Stripe or PayPal account to the b2match system by going to Configuration - Event Settings - Integrations. Payment integration can be done only by event owners and has to be done for each event.

Alternatively, you can set your payment via invoice.
2. Make sure you check the settings in the b2match system. You can find them in Configuration - Payments - Settings.
Currency - b2match gives you the possibility to choose your currency (EUR, USD, GBP or other currencies).
VAT - If you chose "EU Reverse Charge", European participants with an international valid VAT number don't have to pay VAT if they are located outside of the country where the organizer's organization/company is located. Please check with your Finance department if EU Reverse Charge is possible and otherwise which VAT percentage you can invoice. If you have other custom rules, please contact the support as they can be implemented differently for each event.
Payment Methods - you can choose between Stripe, PayPal and Payment via invoice. At least one payment method has to be enabled.
Invoice Configuration - make sure you configure your invoice in the system. The invoice will be automatically generated for all participants.
Invoice Header: enter you company name, your invoice address + tax number. The event
Invoice Footer: you can enter here your bank information (optional).


Please check with your Finance department if your complete invoice meets all local tax regulations.

Ticket Selection Mode - by default, participants are able to select multiple tickets. If you want to limit their choice to one ticket,

enable the

single ticket selection mode.

When enabled, participants will be able to select only one ticket in registration.
3. Add tickets. Go to Configuration - Payments - Tickets. Make sure you define which sessions are associated with these tickets (example - Cocktail Reception only available for Business Providers). If you added participation types, you have the possibility to define multiple tickets for a participation type.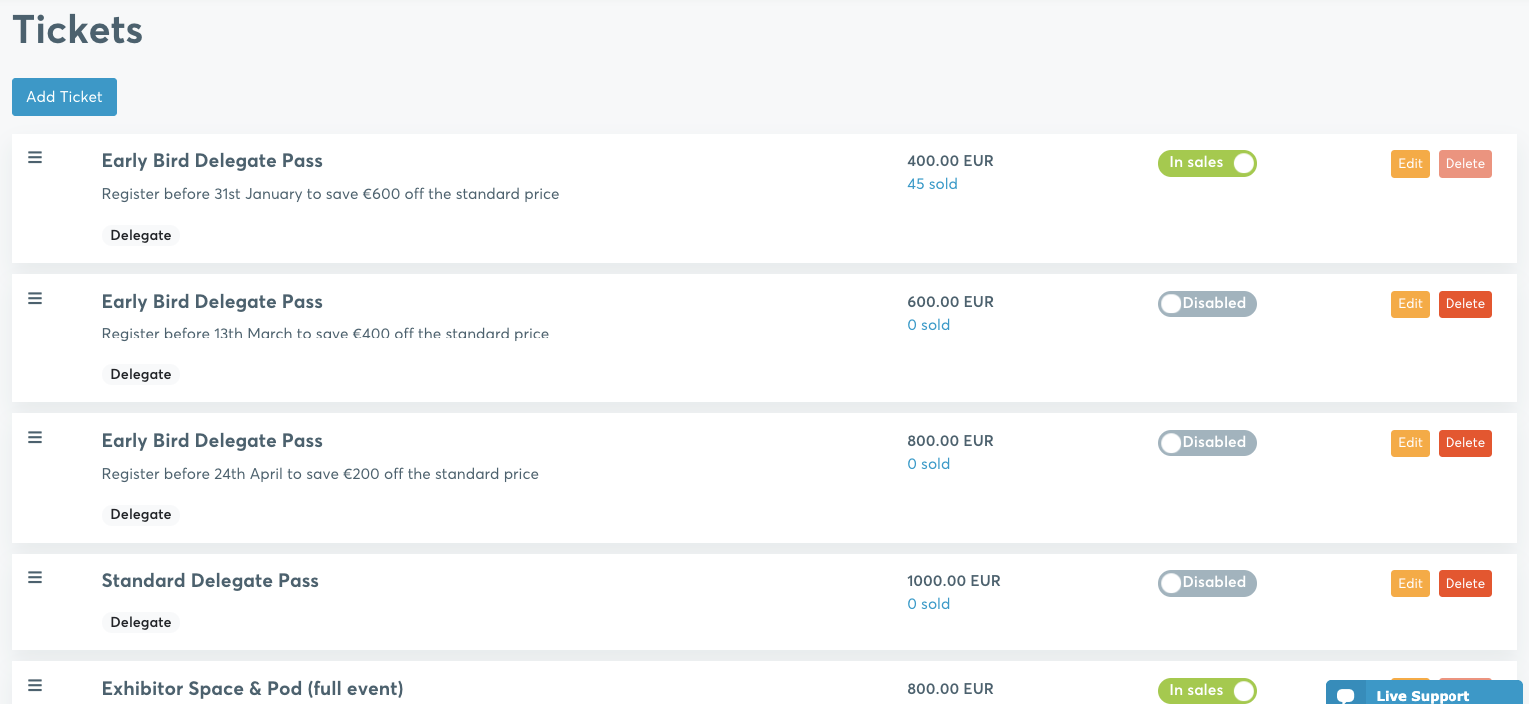 4. Test payment in Draft mode. As long as your event is in draft mode, you are able to test your payment which will also be in draft mode. You can use 4242 4242 4242 4242 as a credit card to test your registration and payment. Card date and CVC can be any random numbers. The status of your payment will be marked as test.
You can delete test payments as long as the event is in the draft mode.
You can view the payment status of your participants by accessing the Payments tab, under the Status column.
When using PayPal for your payment, create a 1 EUR ticket, register for the event and buy this ticket.

Free - a 100% promotion code was applied or the ticket amount is zero
Pending - the payment hasn't been processed yet
Waiting for approval - payment has not been approved by the organizer. In this case, the payment approval feature is enabled
Paid - the payment has been processed by the system
Refunded - the payment has been refunded by the organizer.
The payment tabs in the organizer's tool are not visible to Support Organizers.
Organizer Wanting to Use Own Invoicing System
We remove the download button for invoice and pro-forma

A message is added saying the participants will receive an invoice from the organizer

Upon confirmation of the payment, the organizer will send their own generated invoices

The organizer needs to fill in the details in Payments - Settings - Payment Methods - Bank Account Details. These will be added to the Complete your payment step in the registration.

​