Go to admin.b2match.com and log in or, if you are a new customer, register first.
After signing up and confirming your email address, you will get your event overview.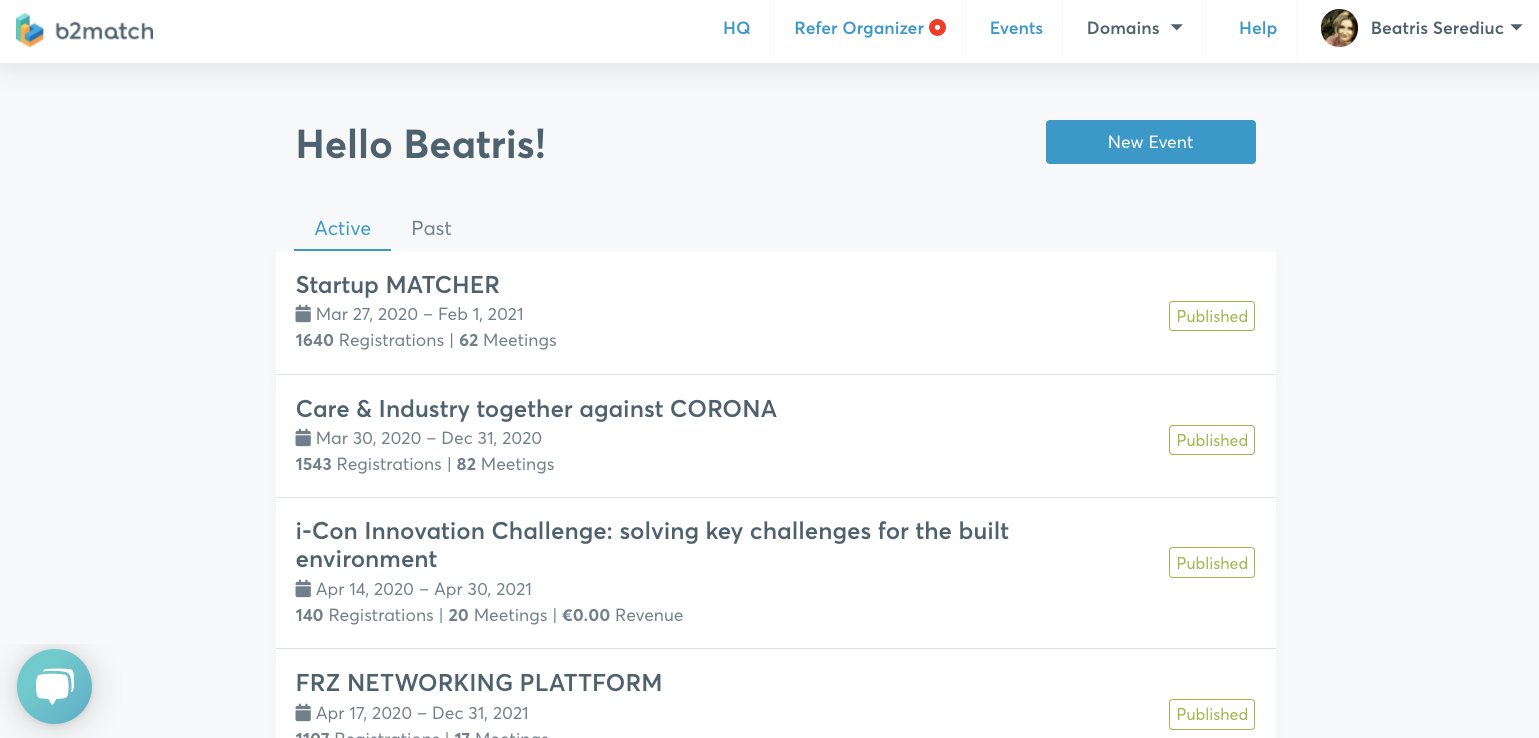 Create your first event by clicking on New Event.

Enter the basic information in the Create a new event area by filling in the fields here.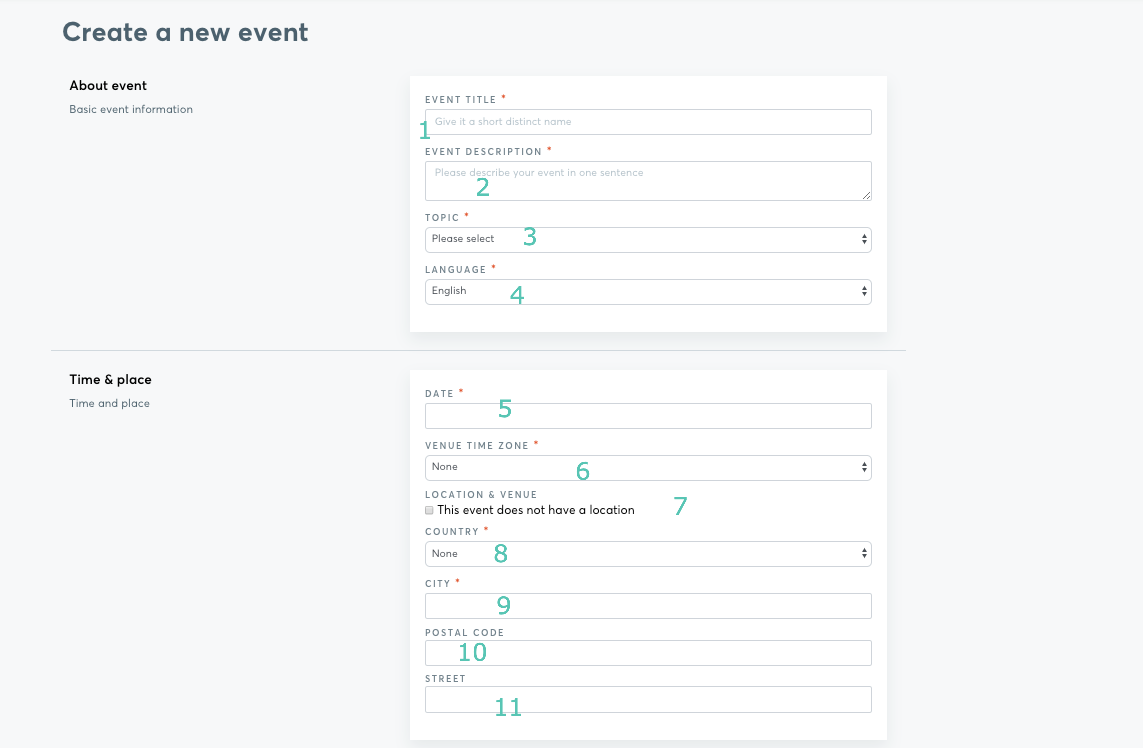 Enter your event's name. Keep it short and enjoyable.
Add a description of the event in one or two sentences. This information is used for search engines and will not be displayed on the event website. The maximum of characters allowed is 156 characters.
Choose the event's main topic.
This will will improve your search engine results and makes your event searchable on https://events.b2match.com.
Also, this will generate the areas of activity in Configuration - Areas of Activity, which will be selectable for the participants during registration. You can edit the generated areas at any given time. If you choose Others

as event topic, no areas of activity are generated and they need to be added from scratch.

Add the event's main language.
Add the event's date.
If event does not have a location, tick This event does not have a location. If you do so, the details specified in points 7-11 will not be displayed. Keep in mind that you can also create a menu page for the location details on the website.
Choose the venue's time zone.
Choose the event's country.
Add the event's city.
Add the event's postal code.
Add the event's street.
Specify a subdomain or an URL for your event. Keep it as short and simple as possible. Use small letters, numbers and the hyphen '-' . Other punctuation marks are not allowed.
Examples of good subdomains: futurematch, medica, swiss-startup-day, foodmatch.
b2match covers the possibility to use a as well (eg. www.my-event.com).
Tick Standard website if you wish to use the b2match standard website. b2match provides you a website with standard settings, to which you can add content: text, pictures and hero image (banner). If you already have a page for your event, you don't need the b2match standard website. You need to add the URL of your event website and to connect the b2match platform to it. Tick My event has already a website and I want to connect it and add the url as you see in the example (https://event-name.com)
Choose your Event group, if you already use this functionality.
refer to the instances when the owners of the website would like to copy paste a past event set with b2match. Type the title or the subdomain of your event in order to search it and select it.
Import participants from the event you would like to copy. Please note that only registered and validated participants in the previous event will be copied.
Click on Create Event. A basic event website is set up and you are ready to configure your event.
After choosing your event from the event overview, you can configure your event by selecting Configuration in the left sidebar. b2match offers many features and we would definitely recommend you to spend some times inside the settings, to get a good understanding of what can be configured inside an event.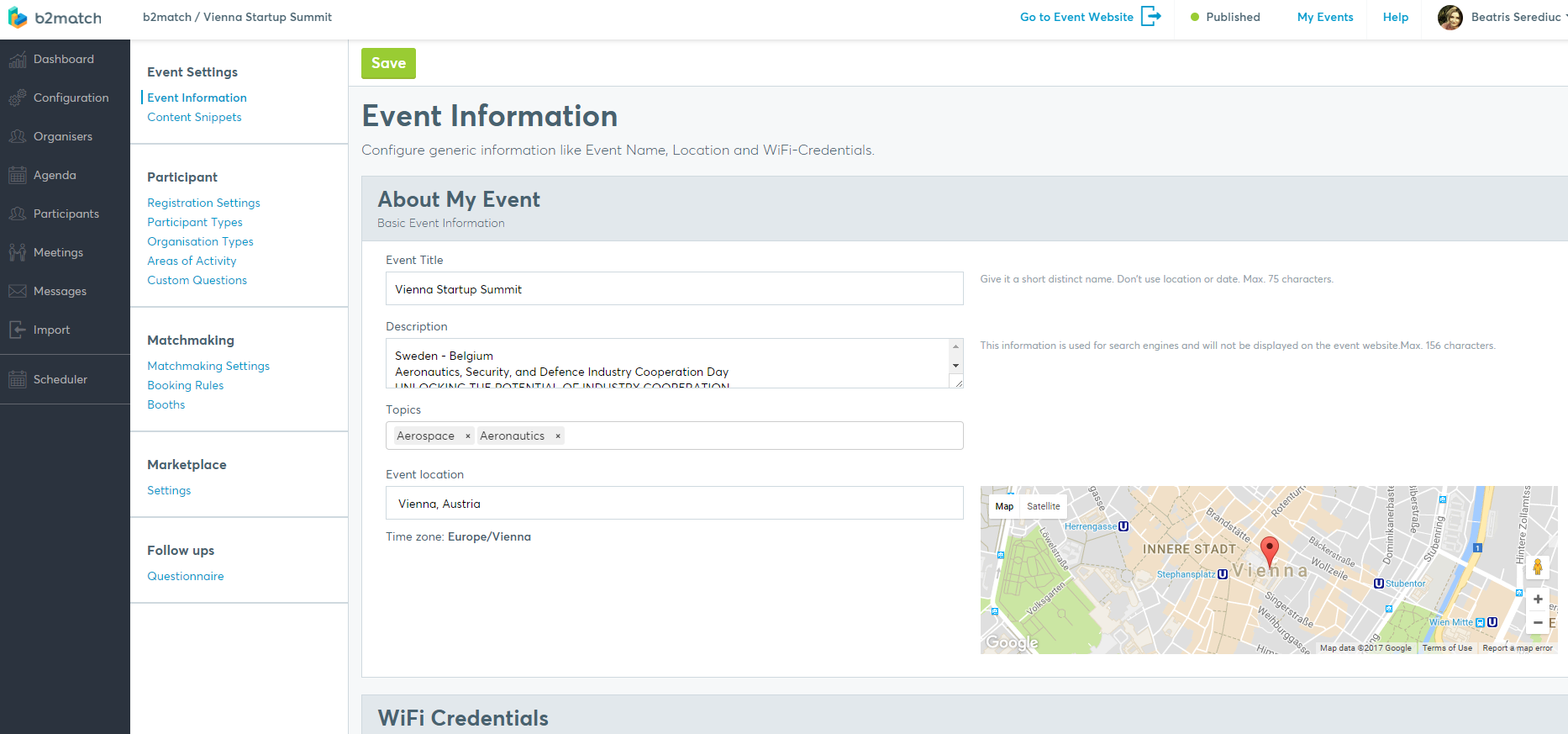 According to your needs, your event's website can be in draft mode, which means that it is only visible to the owner of the website; or published, which means that it is accessible to the public.
If you don't already have a page for your event, b2match provides you a tool which enables you to customize a basic event website.
You can view your event website by clicking Go to participant website in the top navigation.
You can edit your event website by clicking on Website Editor.